What went wrong with the circus?


There were two reasons for the Ringling Brothers Barnum & Bailey Circus to search for somewhere down south to open an attraction. First, it would give performers a place to go during the summertime and downtime in order to relax, but continue to work. Also, it could also serve as a place where the circus could train new performers for their circus acts. Mattel provided the financing, and in February of 1974, Ringling Brothers Barnum & Bailey Circus World was opened.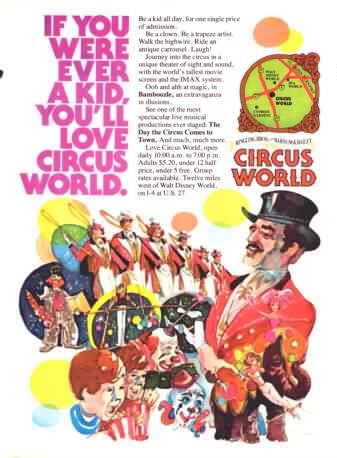 The park survived and thrived for a short while, feeding off the success of the nearby Walt Disney World, the newly opened Sea World, and from local visitors. As the 1980's began, Circus World began to fall into a slump, as less and less tourists began visiting the park. Local visitors proved not to be enough to support the rapidly dying park, and its image changed from a family fun place to a teenage hangout. Things were looking bad for the park in the mid-eighties. The Roaring Tiger, the landmark woodie of the park, was shortly renamed the Michael Jackson Thrill Coaster, and the parks only other coaster, a shuttle loop named the Zoomerang, proved not to be enough to cause visitors to drive the fourteen miles from Disney World to see the park. Not even the circus acts, and the animals proved enough. The park dropped the Ringling Brothers name and just became Circus World, as Mattel continued to pump money into the failing park.
In 1984, Mattel was in trouble with this achilles heel of theme parks, as in a single year the park lost $19.5 million dollars. Death was knocking at Circus World's door, as Mattel frantically searched for a buyer, willing to rid themselves of the park at any cost. A buyer was found in the form of a real estate developer named Jim Monoghan. After buying the park for ten million dollars, Monoghan then foolishly spent nine million dollars on improvements. A new rollercoaster was added called the "Weiner-looping" coaster, but it seemed as though Monoghan was too late. The tourists were not returning, the families were not coming, and the park plummetted into dispair at the 'hangout' image prevailed in the minds of locals. Circus World was on its last leg.
Staring at a bleak future for the park, it was now Monoghan that was searching for a buyer......but, hope could pull through....in the form of a textbook publisher searching to expand its markets.