The End of a Legend
---
Shortly after purchasing the Sea World family of parks, and Boardwalk and Baseball, HBJ was plunged into financial chaos. This reached its climax in 1987, when HBJ averted a hostile takeover bid by British publisher Robert Maxwell. This left the company $2.9 billion dollars in debt. With that, HBJ found itself in deep trouble. The decision was made then on June 20, 1989 to put the six theme parks up for sale. Around August, Busch stepped in wishing to buy all of the parks except for Boardwalk and Baseball. Unable to coerce them to break the package, on September 28, 1989 Anheuser Busch announces it will purchase the parks for $1.1 billion.
Not knowing that Busch did not want the park to begin with, the employees were quite happy and looking forward to bright futures under their new owners. Busch had capital to spare, and had proven in its other properties that it would spend as much as necessary to build the biggest and best rides around. None of that was to be.
At 3 PM on Jan 17, 1990, visitors were asked to leave, siging forms on their way out so Busch could reimburse them for their tickets. Then at 4:45 PM, the employees were called into the Boardwalk Theater and the bomb was dropped.



According the Lisa Beckman of the Ledger:

The 626 full time employees and 250 part time employees will 
remain on the payroll for the next two months, closing down the 
amusement park facilities and maintaining the baseball complex and
activities, said Kim Sams, a spokeswoman for Boardwalk and Baseball.  
In addition, employees will recieve vacation and severance 
compensation and assistance in finding jobs.

Immediately after buying the park, Busch began to evaluate the status of each of its new purchases. According to Busch represenatives:

We have undertaken a thorough review of both the 1989 performance
of Boardwalk and Baseball and the outlook for 1990 and beyond...
We concluded that further deterioration in the parks performance
could be expected and that additional capital investment was not
justified.  These factors led us to conclude that closing the amusement
park was the most appropriate alternative.

When asked if another park would open there, B&B president Dick Howard told Beckman:

 The likelihood of another park operator taking over is "unlikely
and unwise"...the park has never been profitable under any of its
owners.

Immediately after announcing the closing, Busch officials announced that the park and baseball stadium take up 135 acres of a 385 acre site, all of which was promptly put up for sale. Eventually everything was sold off piecemeal, and the property still remains in the hands of Busch (although rumor has it that a buyer is looking at it for non amusement purposes.)


According to Brian O'Donnell of the Tribune:

Squirt-gun in hand and silly target just ahead, Pat Duncan won
big on the midway at the Boardwalk and Baseball theme park Tuesday
night, the giddy flashback to childhood netting him three stuffed 
animals and plans to return during baseball spring training.

He won't.

Duncan, one of 180 travel industry officials who visited Boardwalk and
Baseball Tuesday night was stunned to learn an elaborate fest in their
honor was the dying gasp of a failed marketing effort.
"It was one of the highlights of our visit to Orlando," said Bill 
Hardman, executive director of the Southeast Tourism Society, which 
promotes tourism in the nine Southeastern states.  "Grown ups were
out there acting like kids that night.  They had so much fun."
Fans like Duncan have proved scarce.  On Wednesday, Anheuser Busch
Cos. Inc. pronounced its struggling Haines City park moribund and 
beyond salvage.
Industry annalysts weren't surprised the odd mixture of baseball and
amusement park rides never developed enought identity to combat
the tourism heavyweights in nearby Orlando.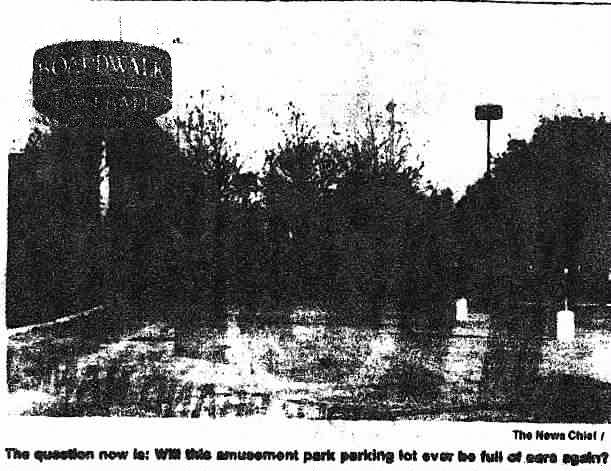 Some employees were surprised but many weren't. According to Chris Peterson, a plumber at Boardwalk and Baseball, 'They told us that it was strictly a financial decision, and I can understand that. We all knew in our hearts, when you look in the parking lot and don't see enough cars.' And the four other park employees who were with Peterson, they refused to talk to Mike Walton, the person who conducted the interview. Their reason for doing so was because they held out hopes that the park might reopen and they didn't want to jeopordize their positions.
So now stands an empty lot, containing only the Imax building and the baseball stadium. Like the Million Dollar Pier in Atlantic City, we have lost something here, something more than just an average amusement park. This park was truly a legend in its own time, a place that failed in a place where failure seems impossible....Florida. So, the memory remains as Universal approaches its opening day of Islands of Adventure; more and more people remember a time when you had to drive fourteen miles to get to the nearest 'roller coaster'. Yet, that time has passed, and all that remains with us is the sign, displaying its dreaded message.......