---
Beyond Innoventions, and Into Communicore
---
The communicore group of buildings were designed as the hub around the central portion of the park. Consider it this way. Main Street is the Hub of the Magic Kingdom, just like Communicore is the Hub around Epcot. Its just that here, Cinderella's Castle (or in this case Spaceship earth), is before the shops instead of after. Anyway, needless to say, it was a very enjoyable place to visit and spend a few hours away from the crowds.

---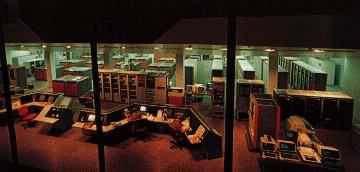 One of the first things you came into contact with when visiting Communicore was the Backstage Magic Show. Here, a little Computerized blip and a holographic Hostess would take you behind the scenes of Epcot's Computers, and show you how from this central brain station, the entire park was run. The example they gave concerned Ham and Egg from the Kitchen Kabaret show in the land. Needless to say, it was a very interesting show, although it did not have any seats, and therefore you grew tired very quickly standing there watching the show.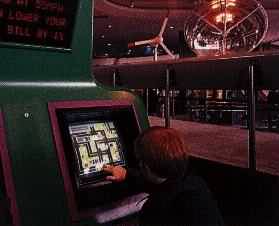 Communicore was set up differently than Innoventions is. Innoventions is a blatant advertisement for its sponsors. You KNOW that Sega Sponsors the game portion of Innoventions, and if you didn't you would be able to recognize the giant Sega logos hanging all around (or at least Sonic). The sponsorship in Communicore was much more subtle. The "game/learning" areas were divided into two parts. One concerned Energy and was sponsored by Exxon, the sponsors of the Universe of Energy. The photo above is of that area. Those of you that have been there will recognize the giant wind fan, which was on display as part of a demostration of alternative energy sources. The other section was sponsored by ATT and involved communications.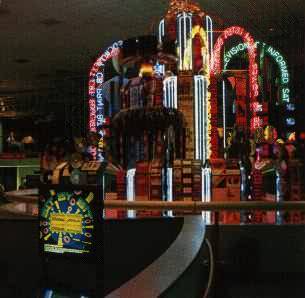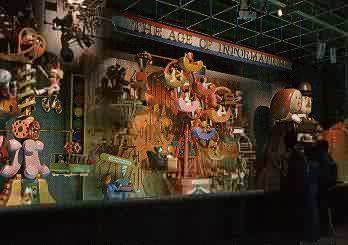 The two photos above are of the ATT portion of communicore. The basic theme of this section was much like the ride. We are currently entering into the Information Age.....and ATT will be there to lead the way. The photo on the left is of the Fountain of Information, and led the way into the Information Playground. There are two things I remember about this portion of Communicore. First, there was a person you could talk to, who sat in front of a blue screen, and could pop up pictures behind him or her of the city or sight of your choice. In addition, they also had a lot of information about all kinds of stuff, and could answer most any question, especially about geography. Another feature of this section I remember was a little game where you designed your own music videos. It was just a little touch screen game that only lasted two minutes, but I remember playing it over and over again.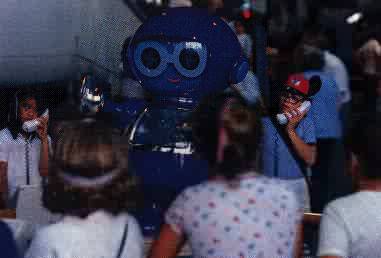 One of the highlights for many a young child was SMRT-1, a audio-animatronic robot that you could talk to and ask questions via phone. Later added around here were airbrush robots that painted images onto shirts while onlookers watched. The cool part about these robots were their precision and how they didn't require human help to do any of the painting. Right near SMRT-1 was one of my favorite things, though, in all of Communicore....Design your own Coaster. This predicessor to Disney's game Coaster allowed you to choose pieces by touching the screen. Then you could stand back and watch your coaster in action.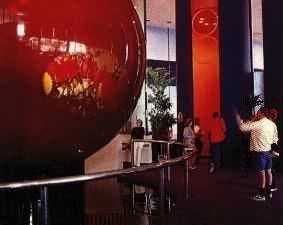 Communicore constantly had new and interesting features to it...and while it was somewhat dated by the mid-90's, it still managed to be impressive in both its architecture and its content. One of my favorite areas actually still exists as part of Innoventions (I think, but correct me if I'm wrong.) Near the shop is a little area with telephones, a picture of which is contained below.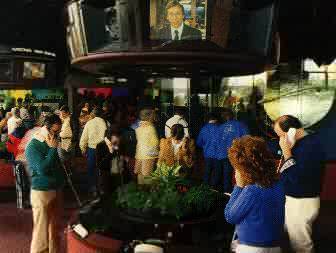 Here you could pick up the phone and listen to what was being said on the TV screens above you. The cool part about this was that the TV was pumped in from all over the world, so you had many different channels, and out of the ordinary channels, to choose from.
Towards the back of this area was the Epcot Survey, where you could take part in a survey to figure out all kinds of things, but especially which rides/attractions would interest you most to be built next. It was here also that Epcot began to run their now defunct Person of the Century area. Why they decided to stop this computerized survey I'll never. As for me I know I put down a few too many humorous answers in the write in section.
It made me sad to hear that Communicore was going to be redone, and while Innoventions does meed or exceed the high expectations I had for it, I still miss the Old Communicore very much. All that is left of it now is basically the shop. Which reminds me......Epcot was designed to make things easier to find by looking for the symbols of attractions. Well, if you look at the carpet around the shop, you'll find the symbol for Communicore there, the final remnant of one of my favorite interactive playgrounds.

---
---