---
Some of My Toughts About a Trip to
Disney World
---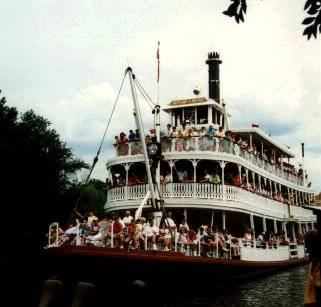 ---
The following is a series of letters between me and Danny (chance0110@aol.com)
Contained within are some of my toughts about a trip to Disney World


---
Letter from Danny--3/29/98
Only a week left! I can't believe I'm finally going. Can I ask your opinion on dining? Is there a good chance of getting a seat at even the nicest, most popular restaurants, without priority seating? Or priority seating reservations made on the same day?

Below is a list of restaurants I am interested in visiting. I have never been to WDW so this is only based on what I have read in books and heard from others, please tell me about them and if they are worth going to or not. Also, please include a list of can't miss restaurants in your opinion. I'll need some attractions info too, but I'll get that later. I just need to know about the restaurants right now since I have heard about restaurants needing reservations up to a month in advance. I want to know about atmosphere and food quality. Also, given my time table what should my priorities be?

Magic Kingdom (I am only spending half a day here since I am seen most of it here in Anaheim before. I'm not sure about the names of all the restaurants)
-Cinderella's Royal Table
-Liberty Tree Tavern
too bad there aren't any table service restaurants in Tomorrowland, it's my favorite land. There isn't one here either :(

Epcot (2 days here)
-Chef's de France
-Coral Reef
-Garden Grill
-Restaurant Marrakesh - Morocco
-Teppanyaki
-San Angel Inn
Is San Angel Inn set in that awesome perpetual night of Mexico?

MGM (1 day)
-50's Prime Time Cafe
-Brown Derby
-Sci-Fi Drive In
-Soundstage

Other
-All-Star Music Food Carts and Food Court
-In-Room Pizza Delivery Service
-Bongos Cuban Cafe
-Ghirardelli Soda Fountain & Chocolate Shop
-House of Blues
-Planet Hollywood
-Rainforest Cafe
-Wolfgang Puck Cafe

I also need Pleasure Island suggestions

Thanks you for all the help.
Thanks
Dan


---
My Response--3/29

Hey Dan,

Well, when you finally get there you will see how immense the parks really are. You probably won't have enough time to visit all of the restaurants you mentioned. But, some of my favorites include the restaurant inside Mexico (even though I've never eaten there the scenery is out of this would, comprable to the Blue Bayou Lagoon Restaurant inside Disneyland's Pirates of the Caribbean. All of the MGM restaurants are really neat, with the fifty's prime time cafe and the drive in restaurant being particular favorites. Soundstage is also very good, but not table service (at least it wasn't the last time I was there.) The soundstage is particularly interesting because its like the set of whatever Disney movie is out at the time.

If you get time, see the Polynesian Resort Dinner Show, or the one at Fort Wilderness. Other than that, I'd suggest sticking to the rides. There is a lot to do down there. In all truth, we still had a lot to do even on our two week trips. Trust me, you won't be bored.

Good Luck
Anthony

P.S Horizons is still open....Horray Horray!!!



---
Danny's Next Letter--3/30/98

Hi,

Thanks for the info. Tell me if there is something I can do for you. Especially before Horizons closes. Although I am glad it is not closing, I was looking forward to riding test track. Are they soft opening?

Thanks for your thoughts on the restaurants. Do you have any ideas on a good place in Magic Kingdom? We are only having lunch there. What I am worried about is priority seating, I am really worried about that. How long do you think I would have to wait to get seated at a popular restaurant,

What about attractions? Here is my ideas, please add to list or subtract:

Magic Kindom:
-Splash Mountain (side by side seating version not seen here in Anaheim)
-Timekeeper (I've heard this is the best circle vision film ever)
-Tomorrowland Transit Authority (Ialways did love the Peoplemovers)
-Alien Encounter (nothing like it anywhere on Earth)
-Hall of Presidents

Epcot
-River of TIme in Mexico
-water ride in Norway
-Spaceship Earth
-Americain Adventure
-Ellen's Energy Adventure
-Circle of Life
-Food Rocks
-HORIZONS

MGM
-Great Movie Ride
-Tower of Terror
-eat at Sci-Fi Movie restaurant

PLEASE- tell me anything good that I've left out. Some rides that I thought were dumb when I first heard of them seem interesting now that I learn more about them.

The one ride everyone has mixed fealings about is The Land. I've heard it's like 20 or 40 minutes of looking at plants. How do you feel about it?

Dan



---
My Response--4/1/98

Dan,

I don't think that I stressed enough in the first letter, but I'll say it again. Don't waste too much time at the restaurants. You can get seating there the day of most of the time, especially at this time of the year. If you are planning everything out ahead of time, check with guest relations at the front of the park about reservations, etc. You won't have too much trouble getting reservations if you check the morning of your visit. But, it is in my opinion that, other than the restaurants at Epcot which are attractions in and of themselves, it is not a good idea to go and visit as many of them as possible. You have so many attractions that you'll want to see down there. In the Magic Kingdom, you're right on your choices. Splash Mountain is great, especially from your perspective since you can compare the two versions of the ride. You should probably do a similar thing on Pirates, since the WDW version is somewhat different. The Hall of Presidents is fantastic, and I'm sure you'll enjoy it very much. In Fantasyland you might want to consider going to the new 3d film there if it is open, That Darn Cat 3d. Its supposed to open soon, and it supposedly pretty good. You left out all of Mickey's Toontown Fair, which might be interesting to see just to note the differences between your Toontown and Toontown Fair. Spend a lot of time in Tomorrowland. Its really nice there. Alien Encounter WILL scare the crap out of you. The People Mover still exists there. Space Mountain is bigger there, Timekeeper (called the Transportarium I think) is probably one of the greatest attractions in the park, even topping Alien Encounter. You should also visit the Carousel of Progress just for posterity. Remember, you also have the parade at 3:00 every day, and Spectromagic absolutely shouldn't be missed UNDER ANY CIRCUMSTANCES. It is vastly superior to the old MSEP in every way.

As for Epcot, you'll want to spend time there again, just because none of those attractions exist in DL. Mexico is a very good ride, similar to the old If You Had Wings in the Magic Kingdom. Norway is very good also, but if you're pressed for time, skip the film at the end. Spaceship Earth is always fantastic. Ellens Energy Adventure could be skipped if you're pressed for time, but make sure to catch Body Wars in the Wonders of Life, it is very different from Star Tours, and evokes different opinions from riders. Some love it much more than Star Tours, while some say it is not that great. Being a student of Biology, I love it. The Circle of Life could be missed. Recall though that its only about twenty minutes long, so if you're a fan of the lion king, go see it. The theater its shown in is impressive. Food Rocks is not as good as the old Kitchen Kabaret, but still manages to entertain. The Land Boat Ride is not fourty minutes long. Its only about fifteen to twenty minutes long, and is quite interesting (but you must remember I am a Biology major). Horizons shouldn't be missed (of course). You have to go see The Living Seas if only for the opening film. This is an especially impressive pavillion, and remains my favorite, next to Horizons. Imagination is also pretty good, and it will be your first chance to see Honey, I Shrunk the Audience if you visit there. I'm expecting that the version at Epcot will remain superior to the one at DL, since they could do more with the theater at Epcot. The World Showcase in general is impressive, and it is where I spend most of my time. The film at China is especially good, if you haven't seen it at DL before. The American Adventure is my favorite show in the entire resort, and I make it a point to visit there each and every time.

On to MGM: The Great Movie Ride is a fabulous ride, as well as Tower of Terror. But there is much more there that you should consider seeing. The Indiana Jones Stunt Spectacular is a very good show, and is one of my favorites, but only catch it if you have the time. Lines for it tend to be long. Superstar Television tends to be fun, especially if you're selected to be in the show. The Monster Sound Studio was great back when it was the Chevy Chase/Martin Short film, but they've changed it. I don't know what its like now. But I can tell you that at the sound playground when you exit the rides, there is a series of about six rooms along the back of the wall, which are actually soundproof booths, that provide the ultimate in three dimensional sound. THEY SHOULD NOT BE MISSED. I love going to those booths. You could probably skip the backstage tour, and only go see the Little Mermaid if your're a fan. I really like Muppetvision 4-d, and some of the special effects they use in that show are wild. If they have the new animation tour open, it might be good to see it too.

Anthony


---
That's the point where he left for Disney World...


---