---
Even More From the Lost World
---
This site is a continuation of my previous two pages...this time centering around Epcot and Disney MGM.

---

As mentioned in More From the Land that Never Was, at one time Disney was planning a number of Dick Tracy attractions, and there were a number of Dick Tracy to-do's going on at MGM that year. First, back when they didn't let you on New York Street, there was a mini show concerning Dick Tracy that your tram stopped for. A Picture of that is found below.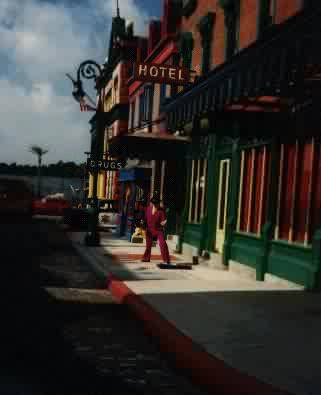 There were also a number of other Dick Tracy happenings at MGM, like the cut-outs that you could take pictures inside of, placing you into the action with Dick Tracy. Also, performers were to be found nightly as characters from Dick Tracy that interacted with the guests as the entered or exited through Hollywood Boulevard. A show did emerge about Dick Tracy.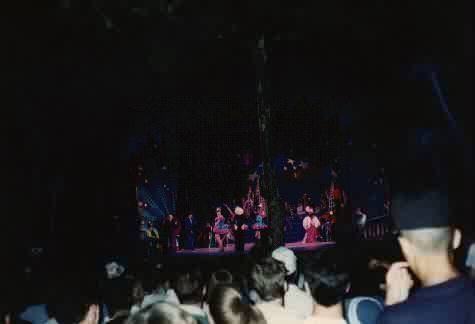 An interesting thing about this theater is that it no longer exists. Following the closure of this show, the theater then housed the extremely successful Beauty and the Beast stage show, and was then demolished to make way for Sunset Boulevard. A new theater for Beauty and the Beast was constructed near the Tower of Terror.

---

An attraction I mentioned previously was Meet the Muppets, a live action Muppets stage show that took place in the theater that now houses Voyage of the Little Mermaid. This attraction appeared during the time right after Disney and Henson "negotiated" an agreement allowing Disney to use the Muppets.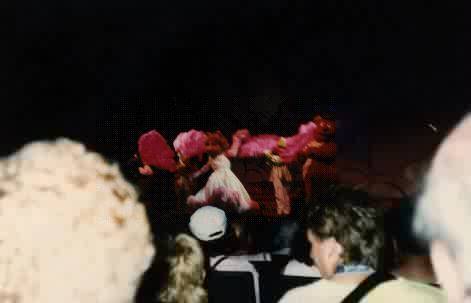 Following its run here, the attraction then moved behind the theater housing MuppetVision 4-d, then closed soon after
---

Live production occurred almost every day at MGM during the summer, and you had many opportunites to sit in as part of the audience.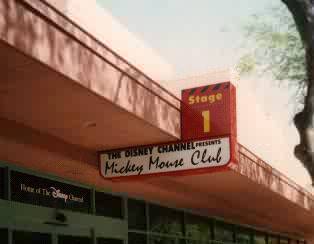 One of the shows taped there was the Mickey Mouse Club, which I and my sister were lucky enough to attend a taping of during the height of its popularity.

---

Up until recently the Teenage Mutant Ninja Turtles continued to appear daily at MGM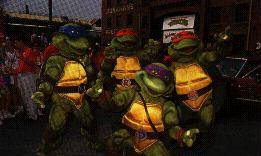 Why? I don't know............I'll leave it at that.

---

One of my favorite attractions was recently changed. The ABC's One Saturday Morning Sound Studio was once the Monster Sound studio.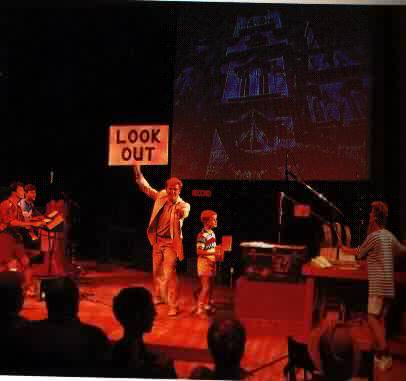 It featured a very humorous story with Martain Short and Chevy Chase in which Chevy always managed to get crushed under a tree at the end of the film. That is....until the audience screamed Look Out, thus warning him to jump back (it was very humorous the first time I saw it)....It was a very well done film and attraction in its day.

---

The backstage tour originally featured a Honey I Shrunk the Kid theme. It also featured more tour than it does now, but we won't say anything about that.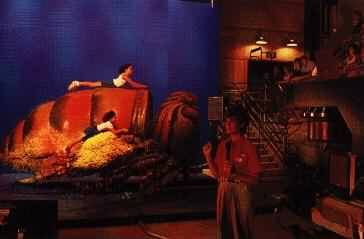 ---
Moving on to Epcot, Journey Into Imagination changed its Image Works playground a few years back. Originally featuring somewhat more primitive computer technology, the playground still featured a great show in which you starred in Dreamfinder's production of a western movie or a space show, or any of a few types of movies.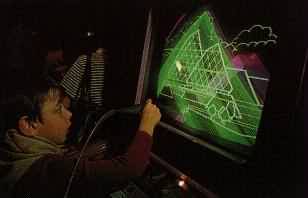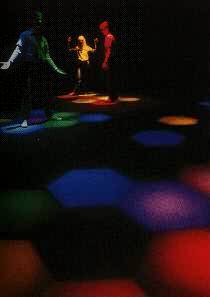 ---
As mentioned in my Sounds of the Lost World page, one of my favorite shows was the Kitchen Kabaret show from the Land.
Below is a photo of the cast of the show.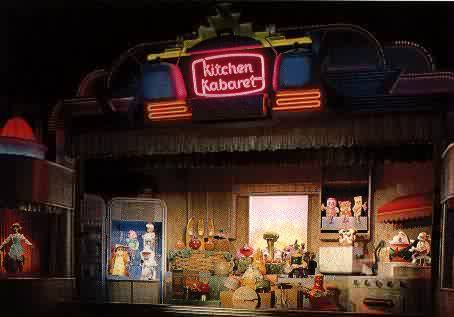 ---
Another sorely missed attraction from Future World is the Universe of Energy, as mentioned previously. This attraction featured an impressive, albeit loud film, about the history and future of energy.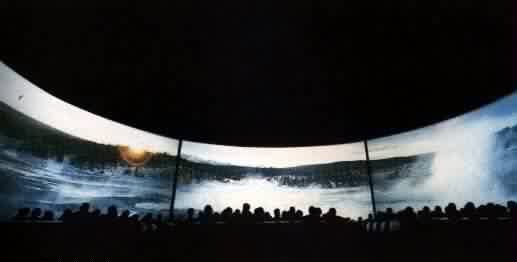 The most interesting part of this attraction was the pre show, which featured rotating screens, and a film, again about energy.....do you notice the common theme here.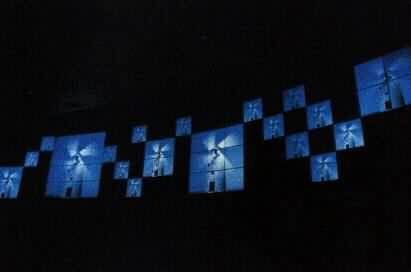 ---