---
More from the Lost World
---
This is a continuation of my original page featuring lost rides and attractions form Walt Disney World. In this case, it centers exclusively on the Magic Kingdom.

---

Just a few hours ago I finished some commentary on the twenty fifth anniversary of WDW, and it made me think back to some of the other anniversary celebrations at the Magic Kingdom. One of my personal favorites was the fifteenth anniversary, in particular because of the song which went like this.

Fifteen Years and We're Having a Party

For Disney World

The Party's Just Begun

Celebrating Fifteen Years of Magic

Come and Join the Fun

A Year Long Celebration to Thank You Everyone

and so on. A partial (albeit unclear) copy of the song can be found on my sounds site. Overall, though it was a very special experience.
The parade for that year was particularly impressive, and featured more floats than I had ever remembered before.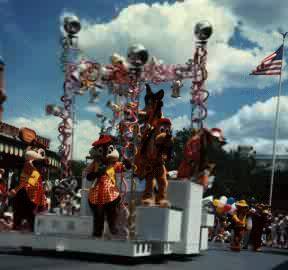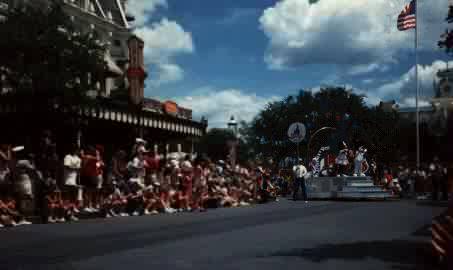 While it didn't have quite as much audience participation as the twenty fifth anniversary parade, it was one of the first times I remember seeing almost every Disney character out dancing around. Strange feature of this parade as seen in the picture above, was that Mickey and Minnie came first up, rather than towards the end as has been seen in more recent parades.
Unlike this year, we who enjoyed the fifteenth anniversary had to settle for only a small cake made of tree bushes, rather than an entire castle/cake as was seen this year.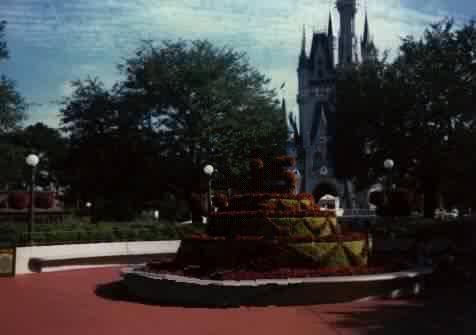 While this may not seem that great, you must also remember that there were a lot more features around the park. Much like the twentieth anniversary, they went out of their way to surprise you, and succeeded equally as well here.
Another feature of this year was the special fifteenth anniversary float in the Main Street Electrical Parade. I don't think I need to say much more about that parade, since it holds a dear place in many of our hearts (even if we like Spectromagic equally as much)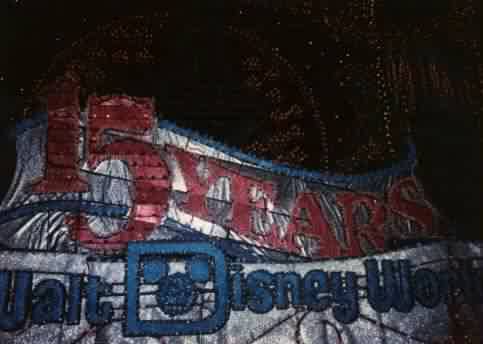 ---
As you walked onto Main Street for the first time, one of the first things you came into contact with was the theater housing the Walt Disney Story (which is attached to what is now the Disneyana store). While I think I have mentioned this before, I am sure that I have not posted up a picture of the mural contained within...as found below.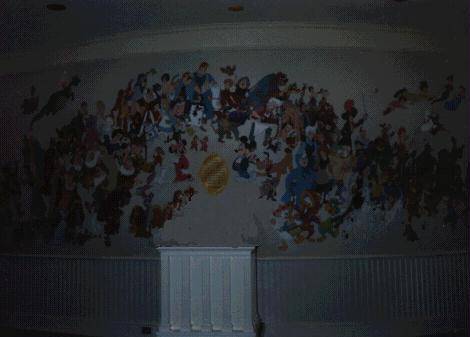 As I have previously mentioned, one of the features of this show was the post show, which allowed you to view upcoming projects.
This post show still exists (I believe), and continues to demonstrate conceptual art for upcoming rides and attractions. I was searching through some video tapes a few months ago, when I found a tape my father took of the area when it was set up for Epcot Center. Hopefully, I will be able to post that video sometime soon.

---

Also on Main Street was the now defunct Main Street Cinema. This was perhaps the only place where you could go to see Steamboat Willie, as well as other Mickey Mouse, or other Disney Character films, as well as Charlie Chaplin short comedies.
I can remember spending much time in there (besides the penney arcade) before the afternoon parade, trying to do my best to cool off and catch a really funny Mickey Mouse flick. Those will be times that I miss.

---

Another of my favorite places in the park was the Diamond Horseshoe Saloon.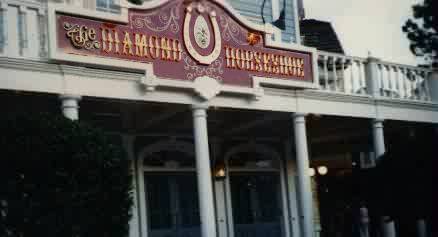 While the saloon still exists, the show contained within has changed drastically since when the park opened. Now, it features short shows, but at one time, it featured a show that you needed to get tickets for very early in the morning at City Hall.
The story chronicled the humorous return to the bar of Miss Lilly, who at one time was in love with Sam the bartender. With her are her girls, with whom she travels around with giving Can Can performances. Humor followed as Miss Lilly swooned at many of the men in the audience (and especially centered around older men or young boys to keep the laughs going) She usually always found a bald man to rub the top of his head while she sang. It was extremely funny.
The highlight song of the show was Belly Up to the Bar, in which Miss Lilly's Girls, and Sams Guys would get together and dance on top of the bar. Another highlight was when Sam, trying to convince Miss Lilly to let him become part of her show, performed Old McDonald with a few members of the audience. The audience members would follow Sam's cues, and sure enough when he told Mrs Old McDonald to drop her baby (a doll of course) on the floor, she did it, soliciting wild laughs from the audience.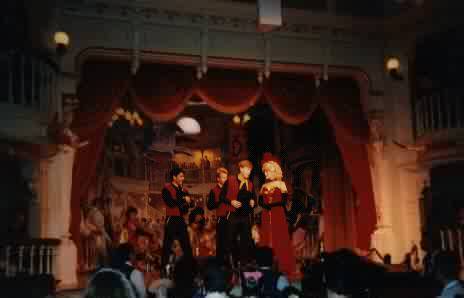 The show ended with the girls doing the Can Can, and Miss Lilly allowing Sam to become part of her act. Every year we went to see the show, never growing tired of the corny jokes, or any of it. It was a favored highlight of our many trips.

---

I've already written about If You Had Wings in my Legends of the Lost World Page. This ride, which first went from If You Had Wings, to If You Could Fly under Eastern Airlines sponsorship, was initially a free ride back when Disney World had the ticket system. Following its closure due to Eastern's bankrupcy, it reopened with a new title, new feel, and a new sponsor...Delta. It was Delta Dreamflight. Following Delta's recent break up with Disney, the ride became Take Flight for a few months, and is now closed completely, to be replaced with a Buzz Lightyear Ride.
Many, though still remember entering through the globe seen below and listening to the music as Eastern took you on a journey around the world. It was my mother's favorite ride.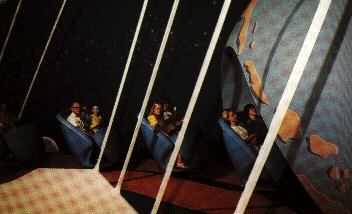 ---
Also in Tomorrowland were the now closed down Star Jets.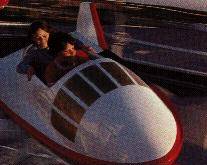 This ride, which was replaced by a similar ride called the Astro Orbiter, was basically the same ride system as the Dumbo Ride, allowing riders to go up and down as the ride circled around a stationary platform.
---

Finally, no page would be complete without mentioning 20,000 Leagues Under the Sea. This ride, a favorite among many visitors, was based around the Disney film of the same name (and the book by Jules Verne, if memory serves me correctly). Guests boarded a miniatruized version of Captain Nemo's ship the Nautalis, where they were taken Twenty thousand leagues under the sea (translated as less than five feet under water.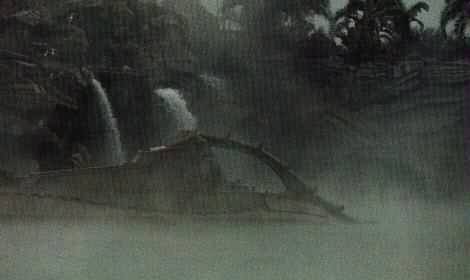 There, guests encountered mermaids and plant life and octupuses, eventually escaping all danger and emerging around the other side.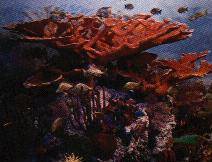 While this was a very well done ride, it also had very poor loading and unloading of passengers, and therefore, was often one of the most crowded rides in the park, sometimes reaching Space Mountain levels.

---