A 'New' Theme Park Opens
---
As December 1985 drew nearer and nearer, the year wasn't all that seemed to be coming to a close. Circus World was in desperate shape, and Monoghan was anxious to rid himself of the property. That was when a little known (to the theme park industry anyway) textbook publisher stepped in and purchased the property, for eightenn million dollars. The same day of purchase, the people were ushered out of the park, and the gates were closed. The circus had come to an end.
But, this wasn't the end of the legend. HBJ had big plans for the property. Here's how it went. At the time, you had to drive roughly two hours to get to the nearest 'roller coaster' in the state. (I put that into quotations, since Disney's roller coasters are unique.) At the time Busch Gardens Tampa held the closest rollercoasters. The plan was this. HBJ purchased the Sea World family of parks and Cypress Gardens, as well as Circus World. Tying those properties together, HBJ hoped to build a multi day ticket that Families could visit in addition to the Disney family of parks (since at the time MGM and Animal Kingdom didn't exist) It was feasible to do so, but only one problem remained....the circus. People wanted new and different things to see. That is why Sea World survived even though it lacked thrill rides. It was something unique, unlike the aquariums you could see in major cities. HBJ needed uniqueness, and their solution was a complete retheming of the park. More than a mile of Circus World concrete was pulled up, and replaced with Jarrahwood. The circus had moved on......and the boardwalk was born.



So, what did HBJ do with the park. First thing they did was to remove the coaster Monoghan added since it didn't meet HBJ safety standards. (According to some who rode the ride, it doesn't meet their safety standards either.) The Boardwalk they laid down was as I said imported Australian Jarrahwood, and las laid down at a cost of 1.3 million dollars. The boardwalk was made up of 35,000 planks held onto the metal frame by more than 380,000 screws. The wood was not chemically treated, and although initially red, the wood was expected to sun bleach to grey. The boardwalk was expected to last for about fifty years (and by then HBJ hoped to have made this one of the premier vacation destinations in central Florida) The removal of the Weiner Looping coaster left a void in the park that HBJ didn't take much time to fill. They added a huge Grand Rapids log flume ending in a gigantic manmade lagoon holding roughly one million gallons of water. It took two days and three pumps capable of pumping out 23,000 gallons of water a minute to fill the lagoon. In addition, the roughly hundred acre park was going to be expanded with the addition of six new ball fields, one of which was a multi-million dollar stadium, complete with a box seat-white cloth restaurant where diners could go and watch the Royals train. The old circus buildings were torn down or converted into offices, and the large stadium was converted from Circus acts to a Colorado Rider horse show. According to Mary Hartney of the Ledger:

"Based on historical fact, a cast of about fifty recreates the 1870's when William 
Gilpin, the first territorial govenor of Colorado, comes in and cleans up Central City.  
'Its an account of how Colorado became a state.  I would call it a combination 
musical/stunt/Western extravaganza,' says Tom Edelston, Boardwalk and Baseball's director 
of entertainment."

And what happened to the fired Circus World performers? Hartney continues:

"Edelston, a former Circus World flying trapeze artist who made the flip into 
management a few years ago, said the theme park pooled entertainment resources from 
Cypress Gardens and Sea World to come pu with the fourty minute production....Edelston 
said that many of the people who lost jobs when Circus World closed were hired back to 
work in the park's productions.  'Acts which fell strictly into a circus category are no 
longer with us.  But people who are multi-talented and tried out for our new shows were 
picked up."

Next to the Colorado Arena stood the old Circus Tent which housed the imax theater. It too saw a slight change, as it now became the Boardwalk theater, and huge images of baseball greats like Ty Cobb were pasted on the side of the building. This was no ordianry theme park.


According to Lawrence Fletcher of the Tribune, Boardwalk and Baseball was:

"'An american classic,' complete with Coney Island hot dogs, a Western riding show, 
baseball and amusement rides.  It is also a fifty million dollar project that one of the 
country's largest publishing houses hopes to make a successful attraction in this tourist 
mecca...The parks original December 1986 opening date was postponed in October and a later
opening date of Valentine's Day this year was postponed in January.  The delays were
attributed to construction delays and the addition of some restaurants and attractions.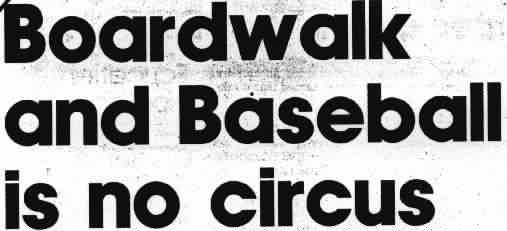 In another article for the Ledger, Hartney wrote:

"When the gates open at 9 a.m. Saturday (April 4, 1987), don't expect Boardwalk and 
Baseball to look or act anything like Circus World.  Eleven months after Circus World's
doors closed when it was bought by Harcourt, Brace, Jovanovich Inc., the 135-acre theme 
park...is opening to the sounds of cracking bats and 'heyy batter, batter'...By the time
the 6,500 seat spring training stadium for the Kansas City Royals is completed in the
spring of 1988, fifty million will have been spent on the park.  Top to bottom, the 
park has been overhauled.  Buildings have been demolished; others were build.  The 
building that used to cage Bengal tigers now houses the park's merchandise offices.  The
giraffe house is now the employee lounge.  Rides were stripped to the metal for safety
inspections, then spruced up again."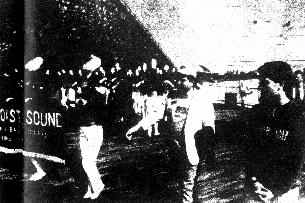 Following the opening, Hartney wrote:

There were some of several thousand people who braved below normal temperatures
Saturday to see what had happened to the place that used to be Circus World just 
eleven months ago...There were some opening day glitches: The park's new log flume
ride was shut down four hours because an electronic sensor wasn't working properly,
and HBJ executive Vice President Jack Snyder was overheard to say that the Colorado
Riders show should be 10 minutes shorter.  Still, people who came to the park Saturday
thought it was great.  'I think its a lot better.  It's a lot cleaner than it was as
Circus World; the rides are a little bit better,' said Tom Fraunce....'I think it will
do real well,' he said.  A combination amusement and baseball park, Boradwalk and 
Baseball opened Saturday after Ted Williams, legendary Hall of Famer and Boston Red
Sox slugger, broke the ribbon with a swing of a baseball bat in front of more than
100 people who braved the early morning chill...The park's first game, which began 
shortly after the gates opened, was only six innings long because no one was there
to watch it, a Boardwalk and Baseball employee said.  An afternoon exhibition game
between the Major League All-Stars and the Boardwalk White Caps (*The Home Team*)  
was better attended...Grand opening events, which included appearences by Miss
Florida Cloe Cabrera of Tampa and Jerry Mathers of 'Leave it to Beaver' television
fame, were to conclude with a fireworks display.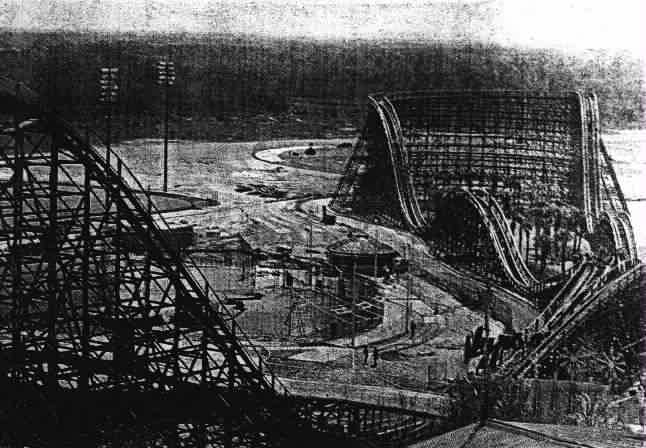 Boardwalk and Baseball was born