---
Still Trying to Remember the Magic
---

This is being written on Friday May 22, 1998

Over the course of the past year since this page was officially opened a lot of things have happened. The twenty-fifth anniversary is officially over, Test Track is still not officially opened, Animal Kingdom opened with only one major thrill ride, the Tiki birds have been updated with a new show, DisneySea and California Adventure are being constructed, and TakeFlight was officially closed. Yet one topic continues to come up.....how to Remember the Magic. My comment last year was that with all of the changes at WDW, it was hard to Remember the Magic when the magic you remembered has been closed down and replaced by a cold, high-tech thrill ride. Those who are fans of Mr. Toads Wild Ride know what I mean. Nobody wants to see that ride close donw (don't get me wrong, I love Pooh and all, but there is not reason why Disney should close the ride down.) I've recieved a number of letters over the past year, and they follow the same theme. Some people argue (translate flame me) that I should support the changes Disney is making becuase it is necessary to keep the parks up to date and competitive. But, I just can't agree with that.
Let's look at the 25th Anniversary to show what I mean
Disney World has celebrated many anniversaries over its past 25 years of existance. The ones I remember most vividly, though, were those for the fifteenth and twentieth anniversaries, and Mickey's Sixtieth Birthday. Those of you that support my view have sent me e-mail like this one found below

From: "Gordon Gilbert"
To: ranma2@ix.netcom.com

Hi. I've been enjoying your Disney web page. I was also at Disney World during the 15th Anniversary and was first there in 1984, as a kid.

Anyways, I was also there last year for the 25th anniversary. The only thing worth mentioning about it was the "cake" castle decorations. Otherwise, I never would have guessed it was the 25th annivsersary. When I was there during the 15th anniversary, they had "siren lights" set up on the booths and they would go off every so often as people entered (not very often) and they would win a prize. My brother still has a pennant from then....

I too remember the excitement of those anniversaries. During the Twentieth Anniversary, they had a Surprise theme running, as those of you who were there or are following the progress of this page already know. That year was probably one of the warmest years I've ever had at Disney World. It was much more comfortable, and they really went out of their way to surprise you in as many ways as possible.
I have a lot of memories from that year. One in particular was of a busload of characters that drove around the World Showcase, stopping at random to say hello to people. It was truly a surprise to find an entire bus full of your favorite characters stopping and all of them charging off the buss just to say hello to you. That was a memorable experience.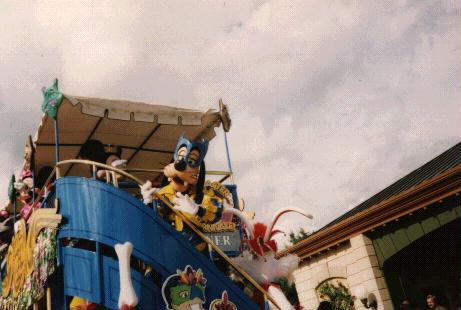 I have a lot of memories of wonderful Disney experiences...of cast members going out of their way to make a trip memorable, of unexpected things happening, and so on. Disney World is nothing more than an artificially produced garden surrounded by a concrete jungle...which in and of itself is very cold. Its the people and the places, and the events, and everything else that make Disney World what it is...and not the latest in high tech ride systems. But, somehow I think that they're losing it
I just finished last night writing a page on the Disney Village Marketplace. I think it is a good page, and I hope that you have enjoyed it also. But, as I was writing it...my Mother came up behind me and I told her about some of the things I was writing down on the page. I told her of how much the Marketplace has changed...how her favorite shop of all time, the Character Shop, was gone, replaced by the newer and bigger World of Disney...............her words sum up what I think many of us feel...I think they're trying to ruin it!

---