How Will History Judge.....Disney's America?

---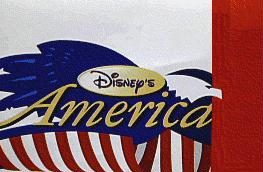 ---

On November 11, 1993, the Walt Disney Company announced an ambitious project....a history based theme park to be located somewhere near Washington DC, to be opened by 1998. The project, called Disney's America, was to be a synthesis of Disney style, and imagination with a mixture of patriotism, history, and fun, all rolled into one 100 acre (or so) park. The park was to be located in the tiny town of Haymarket, Virginia, which had a total population of 500 people in 1993, according to a November 29, 1993 article in Business Week, as well as a two person police force, a sandwich shop, a hardware store, and a grocery.

At first, residents were not fearful, and welcomed the mouse with open arms. According to the article:



Mayor Jack Kapp was won over fast.  "After you visit static monuments in Washington, you can come 
here and see active history," Kapp says.  "It will be like you're actually on a battlefield."


Following the difficulties in Europe, Disney began searching for a means to expand closer to home, and chose Virginia as the perfect spot, and a park based on the history of America as the perfect park. According to the article, the Disney company viewed this as:



....A theme park with a difference.  An imitation of Ellis Island will replace Cinderella's
Castle.  Mickey and Minnie will be upstaged by animated U.S. statesmen at Presidents' Square.
Instead of Space Mountain, visitors can take a high speed ride through a replica of a turn
of the century steel mill.


The story began with secret purchases made before the 1993 announcement of 3000 acres of land near the area of Haymarket, Virginia. While the 3000 acres wouldn't all be necessary for development of the park, Disney hoped to stop quickly overdevelopment of the area around the park, as was seen in Anaheim after the opening of Disneyland. The local officials welcomed with open arms the arrival of Disney, and looked forward to the estimated one and a half billion dollars in tax revenues that it was estimated that Disney would bring to the area.

The park was to feature a lot of different elements as seen in the press release reprinted below:

From the press release by the Walt Disney Company dated November 11, 1993:

'Disney's America' will include a number of unique guest experiences:
---- Entering the park, guests will find themselves in a detailed Civil War era village, which is the hub of 'Disney's America.'

---- From there guests may venture to Presidents' Square, celebrating the birth of democracy and those who fought to preserve it.

---- Native America explores the life of America's first inhabitants and offers an exciting white water river raft expedition.

---- Civil War Fort plunges guests into the most turbulent time in American history, and outside its ramparts the historic battle of the Monitor and Merrimac will once again be fought.

---- We the People introduces the compelling immigrant experience through music, ethnic foods and a powerful multimedia presentation, all inside a building resembling Ellis Island.

---- Enterprise, a factory town, highlights American ingenuity and features a high speed thrill attraction called the 'Industrial Revolution.'

---- Victory Field lets guests experience what America's soldiers faced in the defense of freedom.


---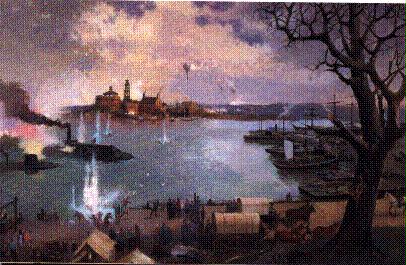 ---

By 1994, local revolts began against Disney when historians realized the historical value of the land. The park was to be built very close to the actual historical site of the Battle of Manassas. But, even moreso, according to a 1994 article in The Guardian:



"This is Goliath," complains Robert T. Dennis, president of the Piedmont Environmental Council, which
represents 2,500 local landowners.  "It is going to suck the urban sprwal to the Blue Ridge 
Mountains."  What this will ultimately mean, according to Richard Moe, president of the U.S.
National Trust for Historic Preservation, is more highways, fast-food restaurants, hotels, and
shopping malls, probably leading to the devestation of "some of the most beautiful and historic
countryside in the whole of America.


In addition....Moe continued:



"Can George Washington coexist with Mickey Mouse?" demands Moe. "Can slavery be properly 
interpreted in an amusement park."


Vice President of Walt Disney at the time, Bob Weis said that the 'Pollyanna view' of america history that the historians were trying to make Disney out to be wasn't what the park was going to be about, and said that they wanted to make you feel the feelings of those present....to know what it was like to be a soldier during the civil war.

By October of 1994, Disney found itself trying to salvage its reputation amidst a flurry of controversy. According to a US News and World Report article dated October 10, 1994:



The head of the Walt Disney Company [Michael Eisner] later recalled that he had "expected 
to be taken around on people's shoulders" for planning a $650 million, history-based 
attraction.  Instead, Mickey Mouse was hanged in effigy during a march on the Capitol,
historians testified in congress and wrote editorials in protest, and zoning meetings
drew crowds.


So discouraged was Disney by this time that they closed the door on the project in Virginia, saying that they would begin search for another site to build the park in....possibly still in Virginia. Rumors that the park will eventually be built in Texas are still as of yet unfounded....but, it is believable that Disney would like to take Six Flags on in their home state.

Until then......Disney's America, with its fun and fancy view of American History...remains part of Forgotten Disney: The Lost Legacy


---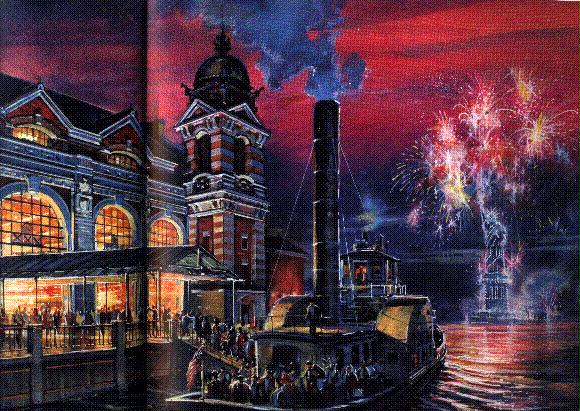 ---
You can find a ton more pictures and information at the following link:
Chotank.com Home to the mirror site of Joe Black's Disney's America Page

---